Last Updated on
Tower cranes is one of the most common crane types. It is common to deploy multiple tower cranes on construction projects. The usage of multiple tower cranes usually are also followed with the installation of several anemometers on different heights since the working conditions for vertical construction and tower cranes are mostly affected by winds. The wind conditions including wind speeds for a tower crane can be quite different from those at ground level and those up high on the sky. Therefore, it is why you need to install several anemometers on different heights on multi-cranes sites. There are a few reasons as to why the wind speed can be different on close by cranes:
The sensor (anemometer) may be shadowed by part of the crane or other structures/buildings as the crane slews and luffs, which ideally should not.
Sky-high construction sites are likely to have more wind variation across the site due to funneling, shadowing and turbulence from complex buildings and structures and this can differ greatly with wind direction.




 

Open empty sites with no large structures tend to have more even wind flow but as the construction takes place and large structure is starting to build up, this may change the wind speed levels. 
In a multi-crane site, according to the project scale and complexity, multiple lifting (lifting a load with more than one crane at one time) is a common phenomenon. This should only be done when the physical dimensions, weights, characteristics, required movement of the load, can not possibly being executed by a single crane. Multiple lifting must be planned and executed with careful consideration, the hoist ropes must remain vertical at all times. It must also include an accurate assessment of load share to be carried by each crane, which may change as the load is lifted.
Accurate wind monitoring is very important for crane operations. If you have any questions regarding wind monitoring or wish to discuss a customized wind monitoring solution according to your need, feel free to contact us.
Email to info@scarlet.com.tw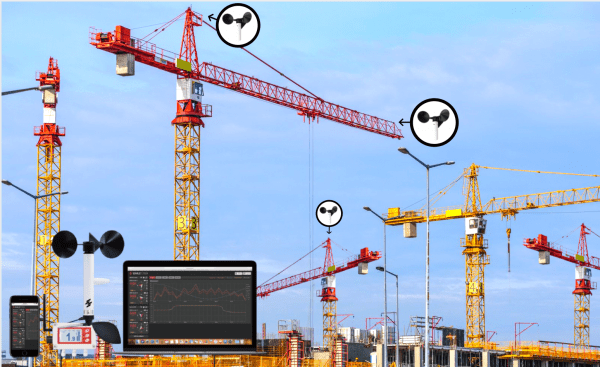 Bottom Left: Scarlet WindPro Cloud-based Wireless Anemometer