COMBINED
WIND SPEED &
DIRECTION DISPLAY
Wind Speed
Live, Max, Average
0.3 - 50m/s
Wind Direction
360° No Blank Sector
8-Wind Compass Rose
Ambient Temperature
-30 - 60°C
-22 - 140°F
Barometric Pressure
500 - 1100 hPa
Beaufort Scale
All 12 Levels
Wind force Graph
Wind Chill
Selectable Units
With Timestamp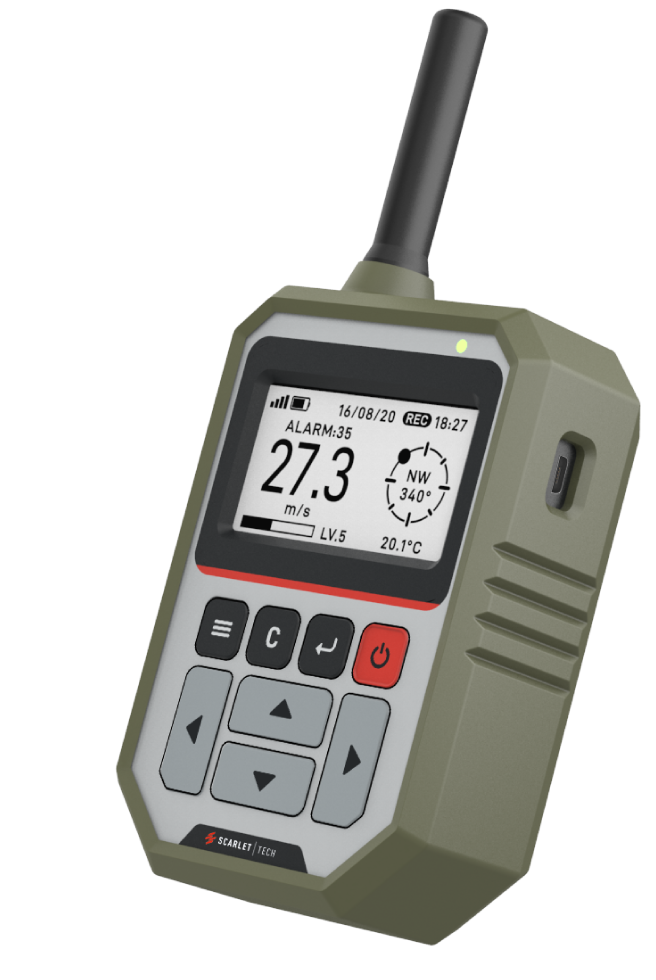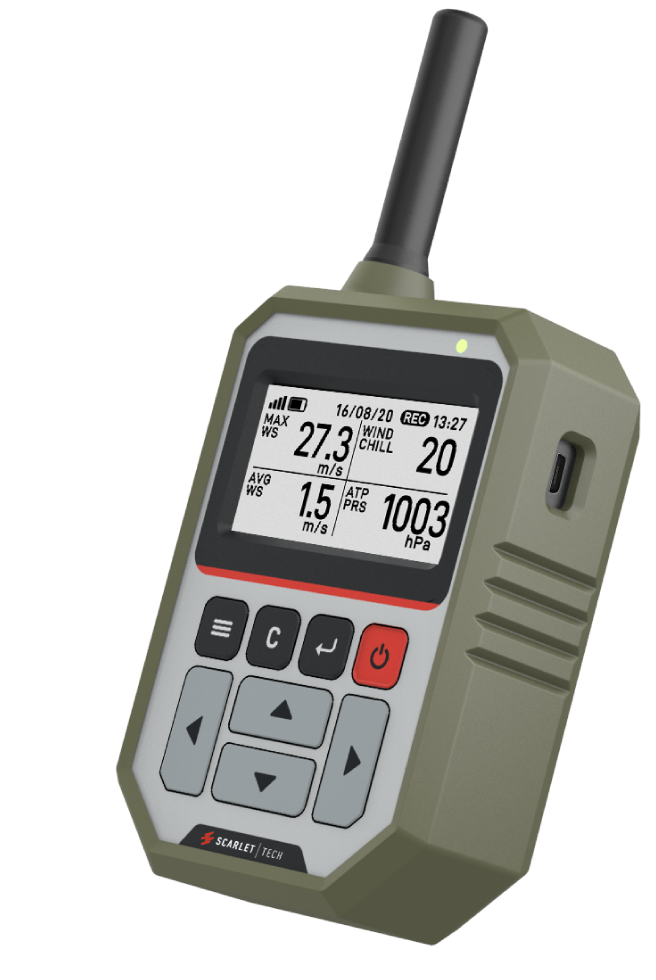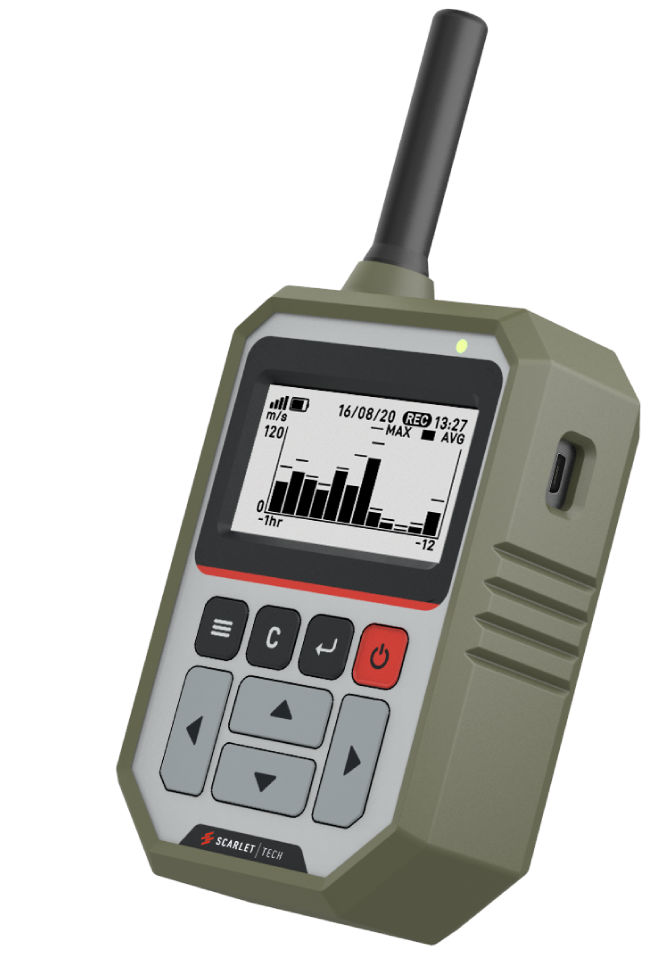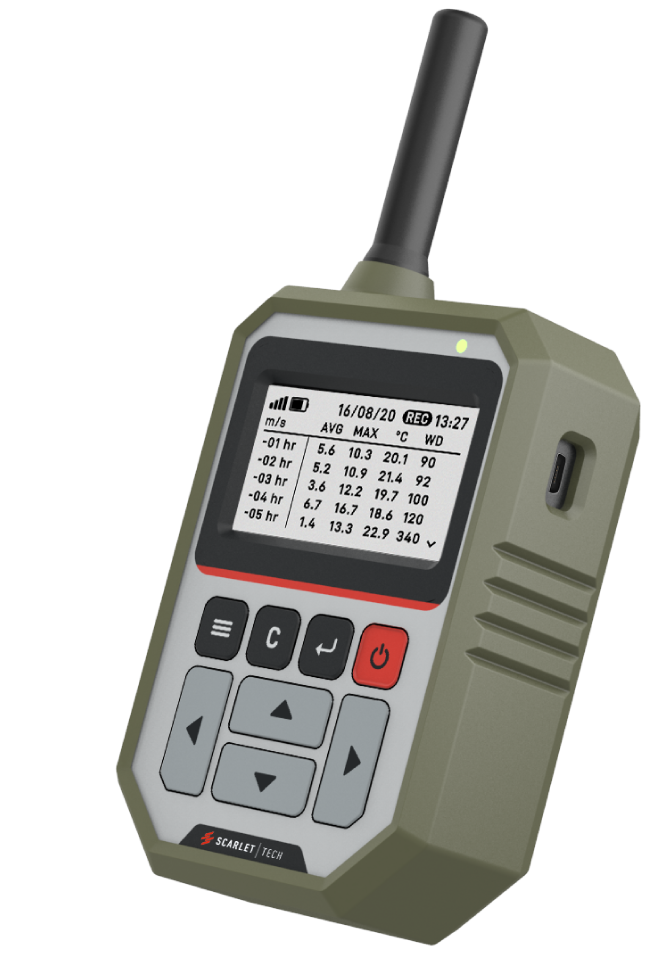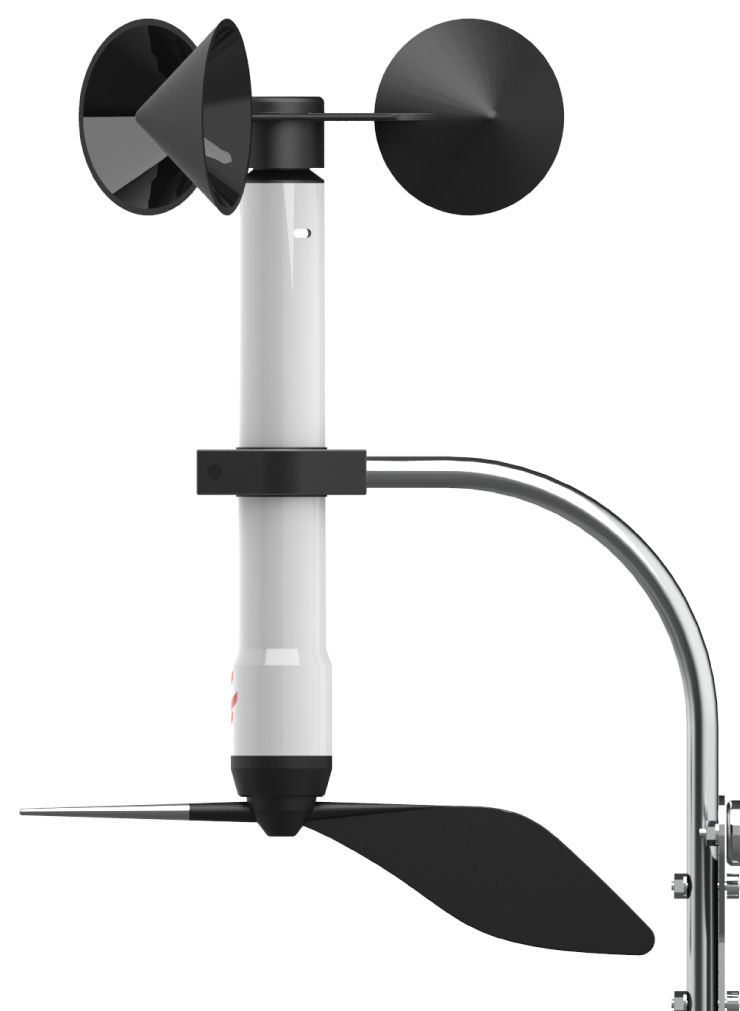 PRECISE WIND SPEED &
DIRECTION SENSOR
Exceptional data accuracy. Ultra-long wireless range.

Trusted by The World's Top Institutions



WIRELESS
WIND DATA
LOGGER
Record wind speed, direction, temperature, barometric pressure
Up to 1 year of long-term data recording (10s interval)
Data can easily export to Excel for wind site analysis
Selectable Intervals: 2s, 5s, 10s, 1min, 5 mins, 10 mins, 60 mins
Get a Quote >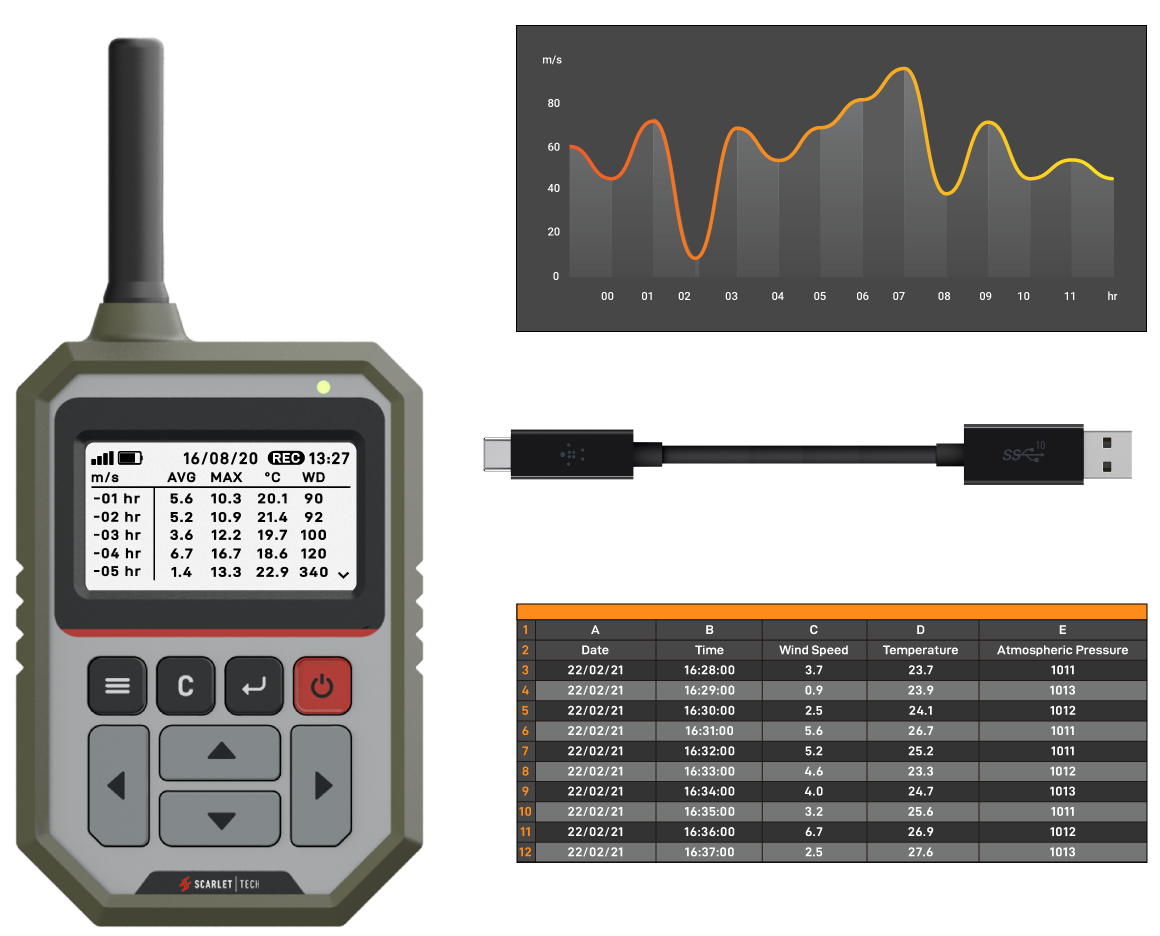 INDUSTRIAL GRADE WEATHER STATION
Scarlet WL-21 system measures and displays current/average/maximum wind speed, wind direction, temperature, wind chill, Beaufort scale, atmospheric pressure, and historic data graphic in high accuracy with multiple measurement units. Users are able to set wind speed threshold and receive instant alarm notification when wind speed exceeds the set threshold.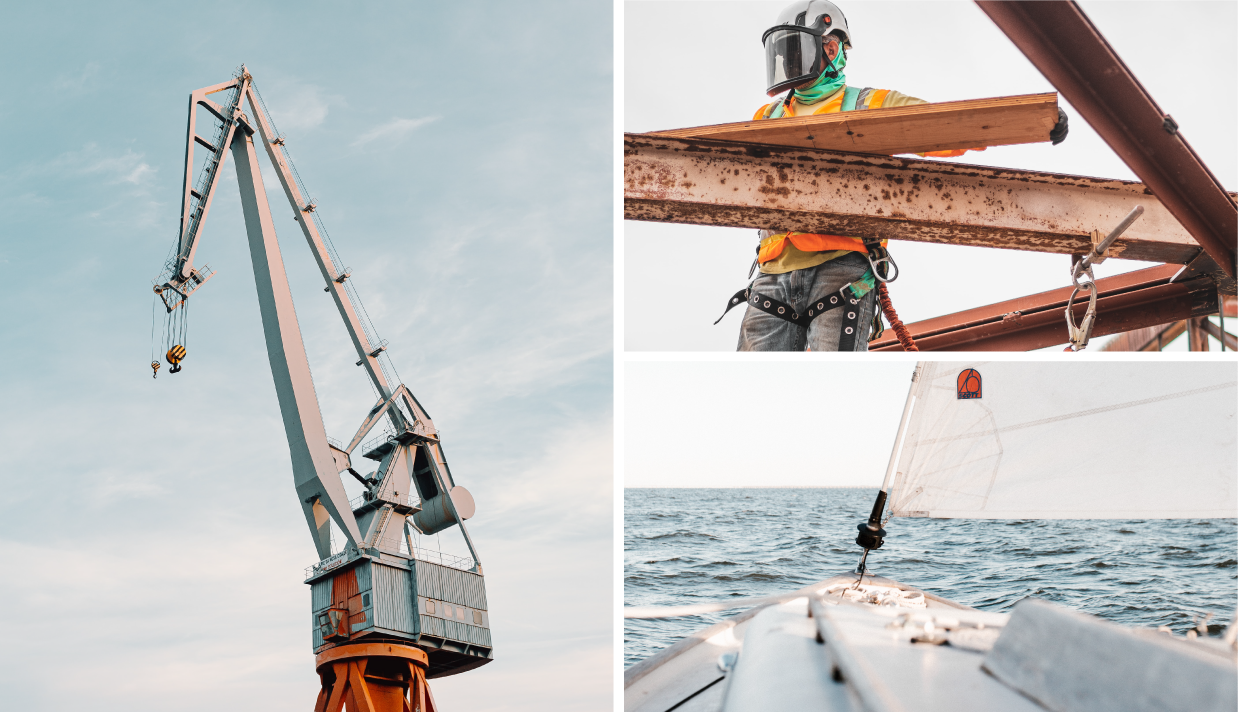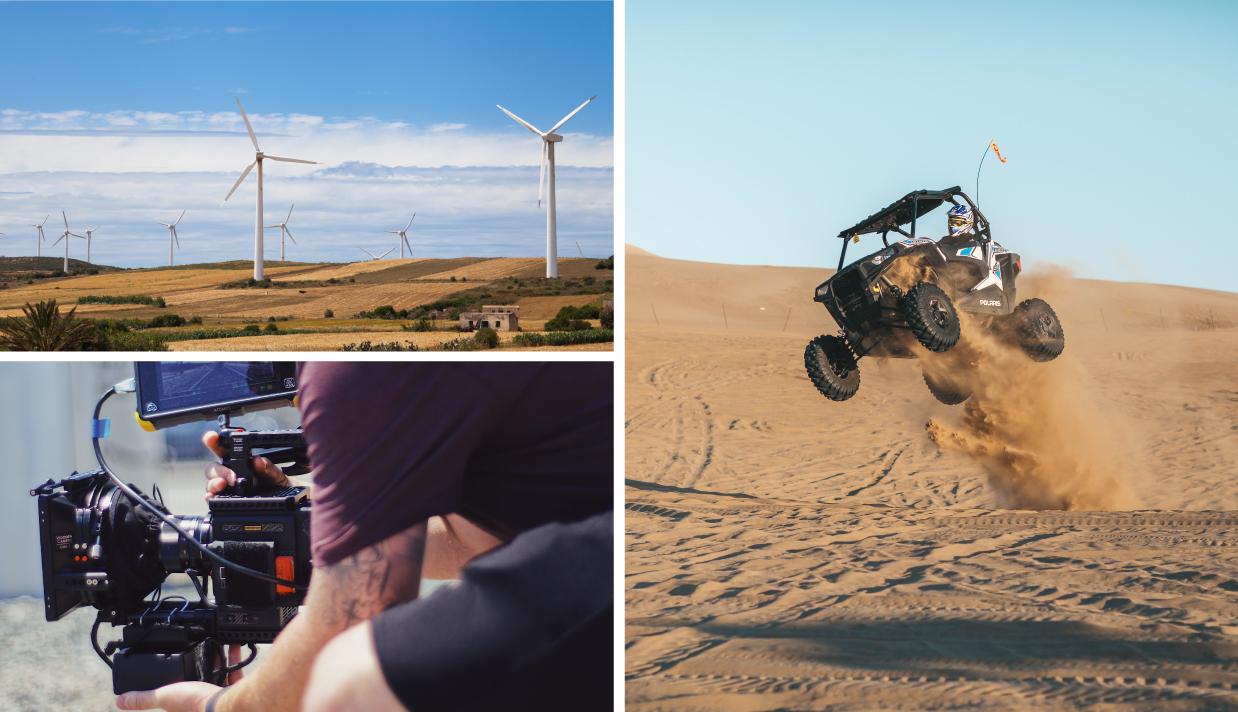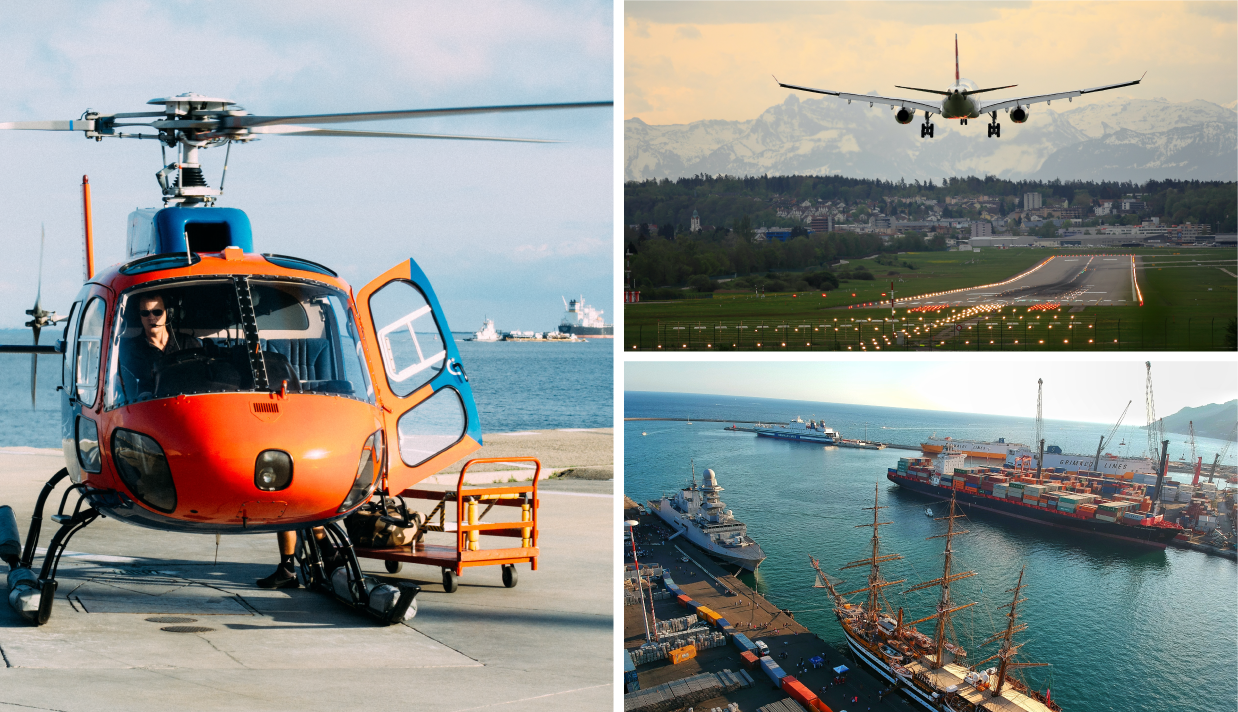 WIRELESS WIND VELOCITY &
DIRECTION SENSOR
Cable free, lightweight, & easy to install. Sensor mounting bracket has 3 heavy-duty magnets on the back for secured and flexible installation.
Get a Quote >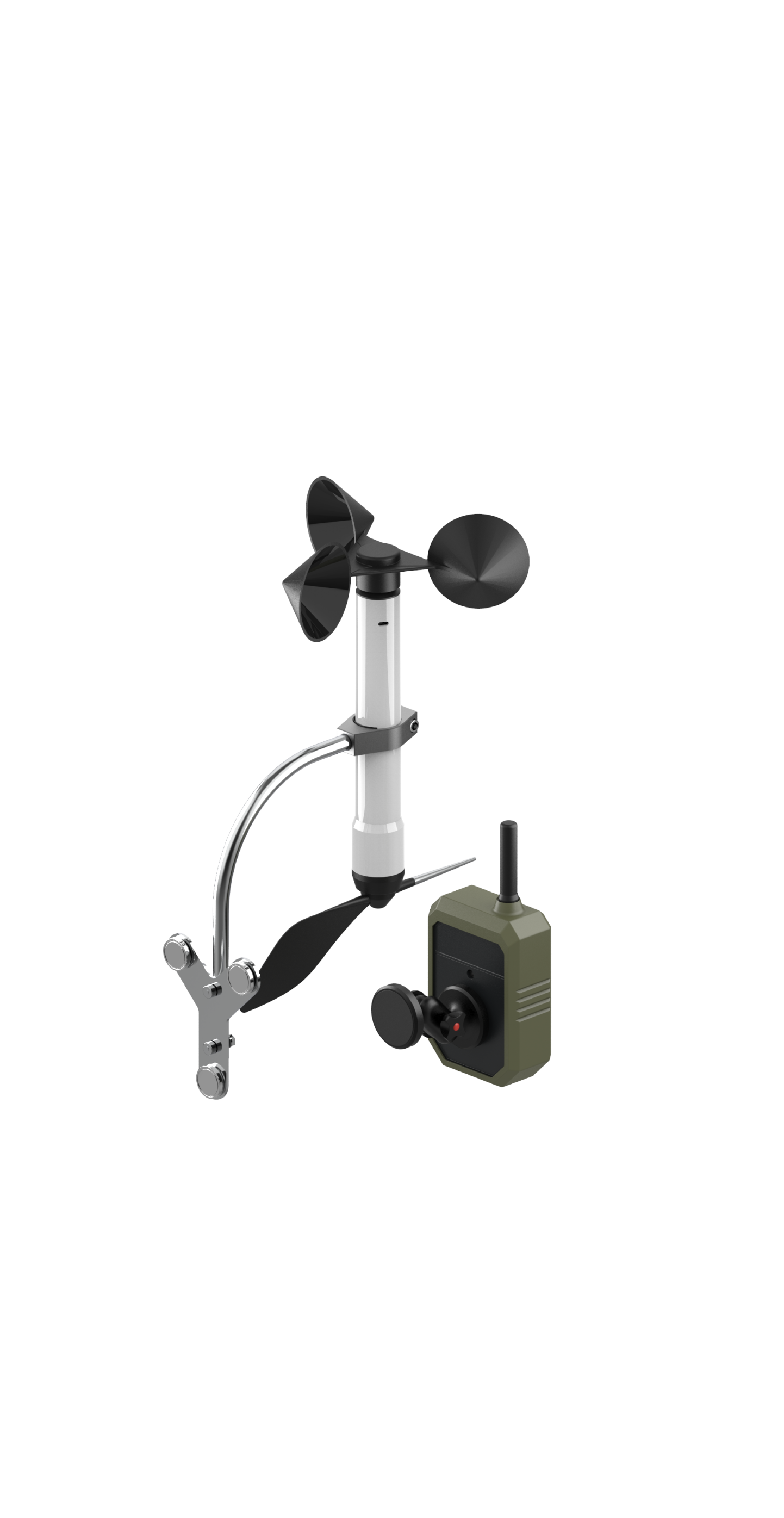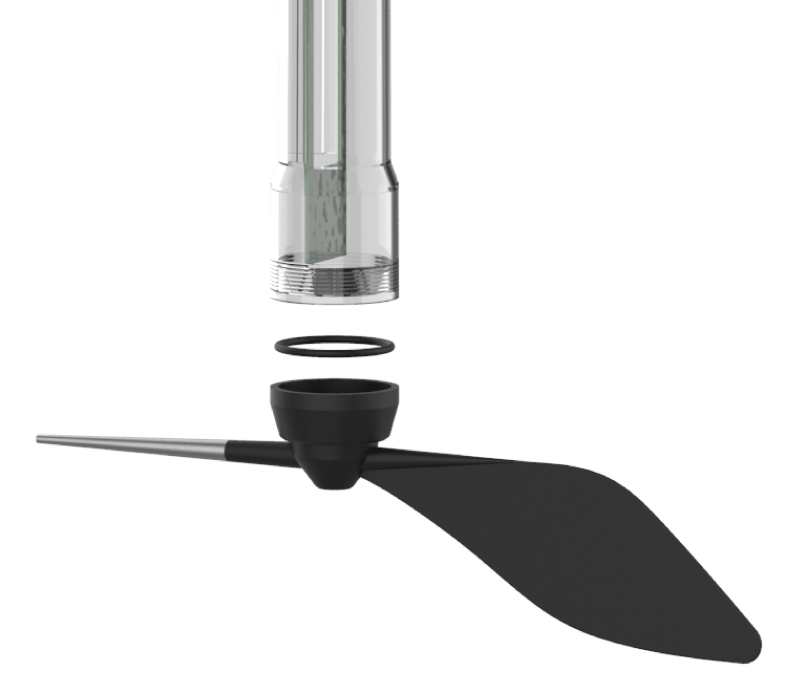 Marine Grade Protection
IP67 certified watertight construction provides full protection against water and dust.
Robust Ball Bearings
Anti-corrosion stainless steel. Reliable for years of operation.
Replaceable Wind Cups
Lightweight material ensures fast response. Captures winds from all directions.
Enhanced Battery Life
Max 3 years of continuous operation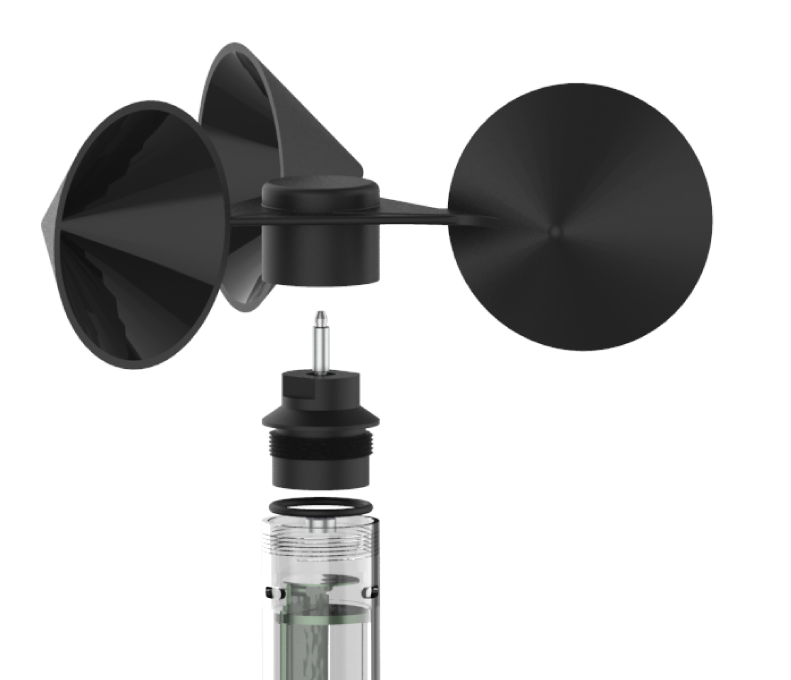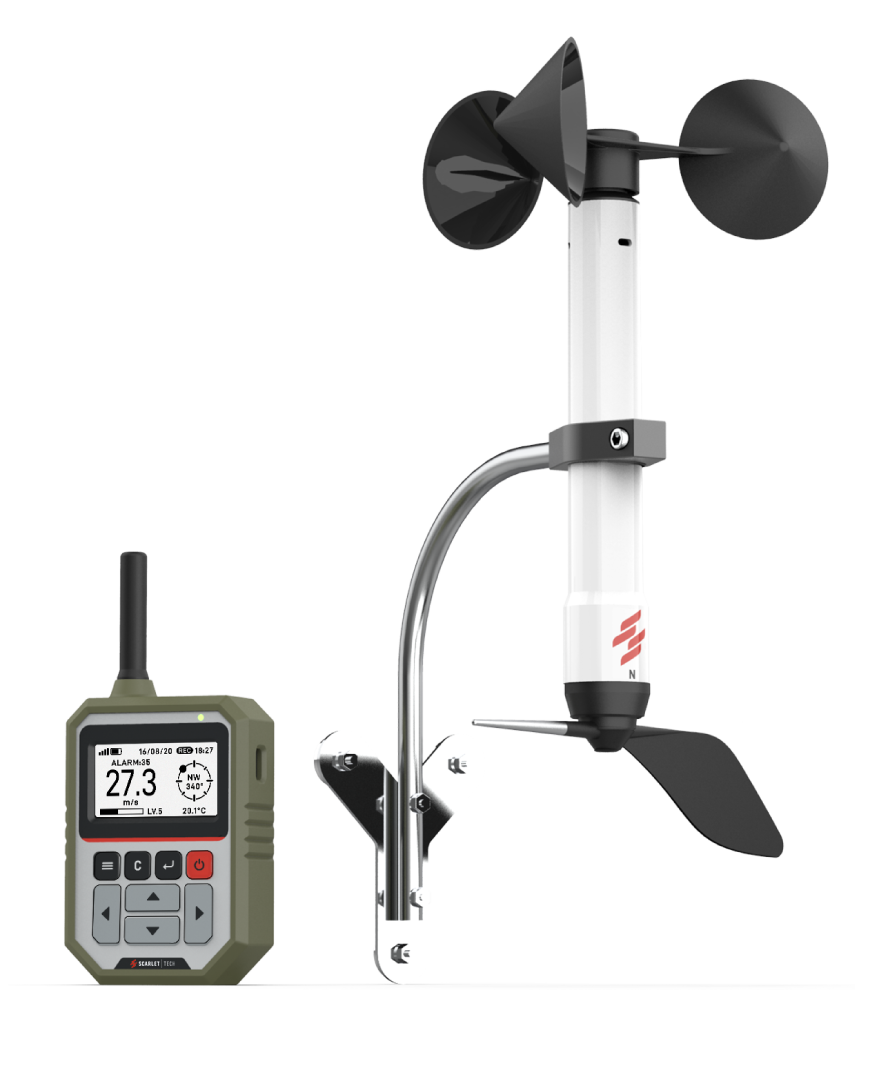 RELIABLE
WIRELESS ANEMOMETER
All Scarlet wireless wind anemometers are wind tunnel calibrated and CE & FCC certified.
Back 1-year global warranty.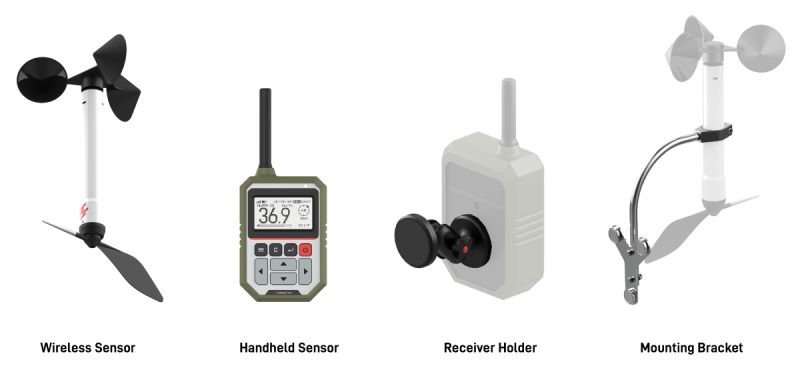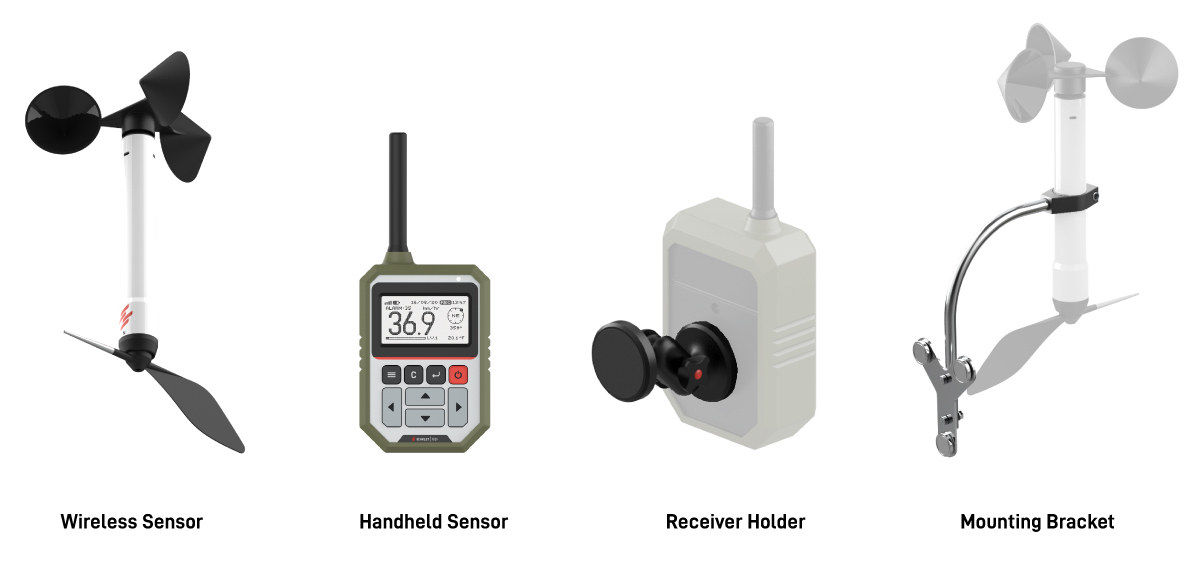 500m Wireless Transmission Range

Instant Visual & Audible Wind Alarm

Data Recording Up to 1 Year

 

Wind Data with Historical Graphs

Accurate Wind Speed, Temperature, Air Pressure Measurements

3-years Sensor Battery Life

Low Power Consumption

Replaceable Wind Cups

 
Item
Description
Wind Speed Measurement Range
0.3...50 m/s
Wind Speed Accuracy
+/- 2 % FS

Wind Speed Resolution
0.1 m/s
0.1 knots
0.1 MPH
0.1 km/hr

Units of Measurement
m/s, knots, MPH,l km/hr
Temperature Measurement Range
-30....+60 °C
Dimensions - Sensor
262.5 x 183.5 x32mm
Dimensions - Display unit
189.6 x 75.6 x 36.3mm
Receiver logging Interval
2s, 5s, 10s, 1min, 5 mins, 10 mins, 60 mins
Display updating
every 2 seconds

Data transmission
every 2 seconds

Measurement interval
2 seconds

Transmission frequency
868MHz(default), 915MHz
Battery - sensor
3.6V 18505 Lithium battery x1

Battery - display unit
1.5V AA battery x3, Micro USB port
Mounting
the sensor mounts on a pipe with ø 20 mm diameter

WL-21 Data Export Software
Download
Find the Perfect Fit
WL-21

WR-3 Plus

WL-410/SD

WindPro

Wireless Range
Max 500m
Max 500m
WL410: Max 500m
WL410XB: Max 1,300m
Max 1,300m
Web Portal: Unlimited
Alarm
Buzzer, Backlight
Buzzer, Backlight
Buzzer + External warning device
Buzzer + External warning device
Datalogging
64MB Built-in Memory
64MB Built-in Memory
Optional:
4-20mA outputs
Phone App
Cloud-based storage
Wind DirectSensor
Yes
No
Optional
Optional
Get a Quote >
WR-3 Plus >
WL410/SD >
WindPro >