WIRELESS
ANEMOMETER
A Wireless Wind Speed Meter You Can Trust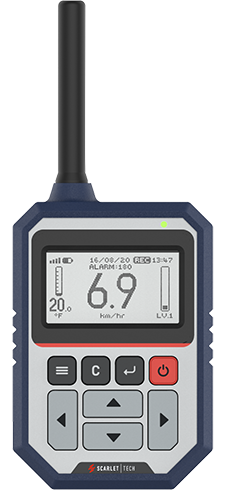 PRECISE. PORTABLE. PROFESSIONAL.
Handheld Data Receiver
• Backlit graphic display + robust anti-slip case
• Adjustable audible & visual wind speed alarm
• Data recording with historical wind graphs
Wireless Wind Sensor
Wind speed, temperature, air pressure data •
Max 500m ultra-long wireless transceiver •
Waterproof & robust for industrial installation •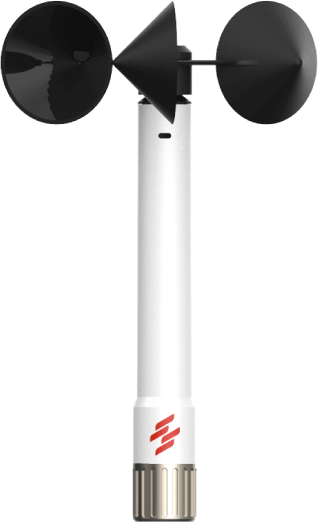 SAFETY WIND GUST ALERT
Operating cranes in windy conditions may create a potentially dangerous situation.
Scarlet's advanced wireless technology connects one wind sensor with multiple displays. Inform everyone the live wind conditions without wire hazards or signal interference.
Transmission Distance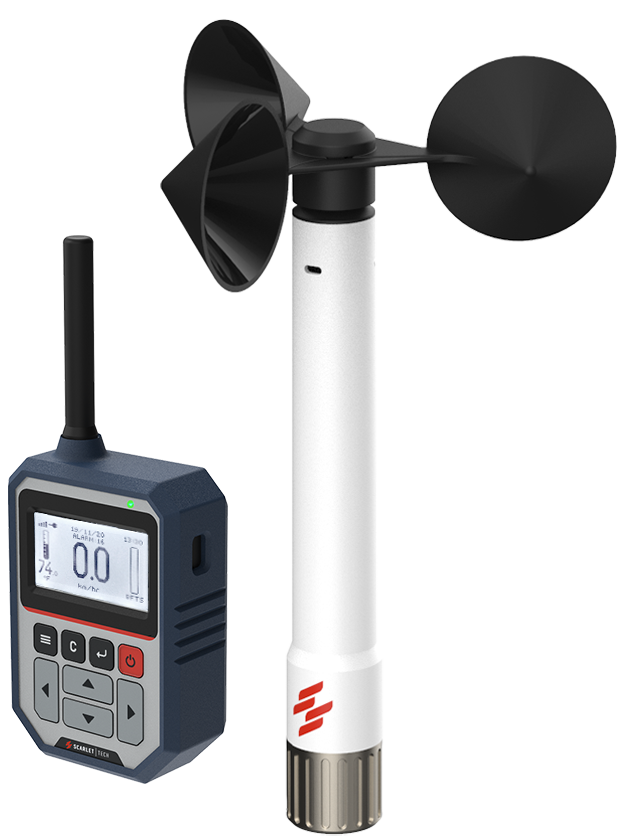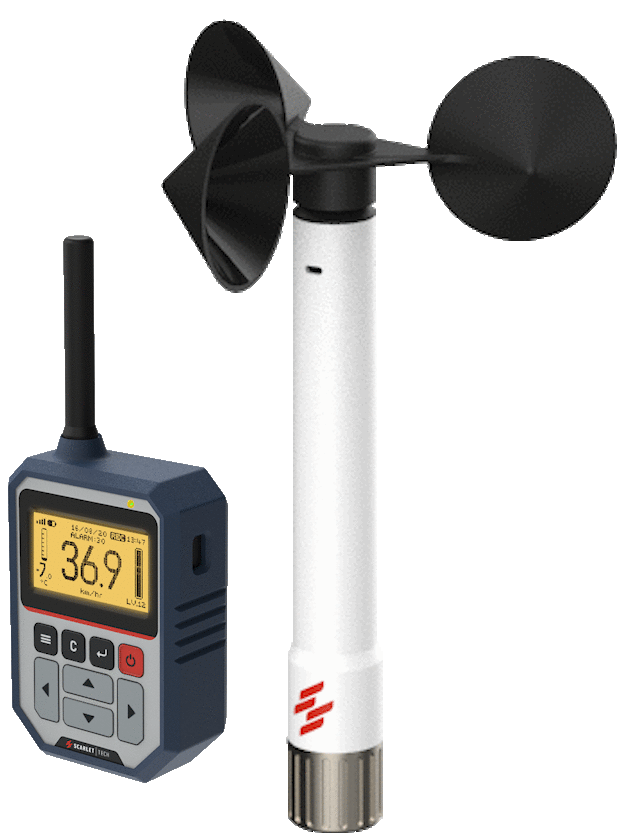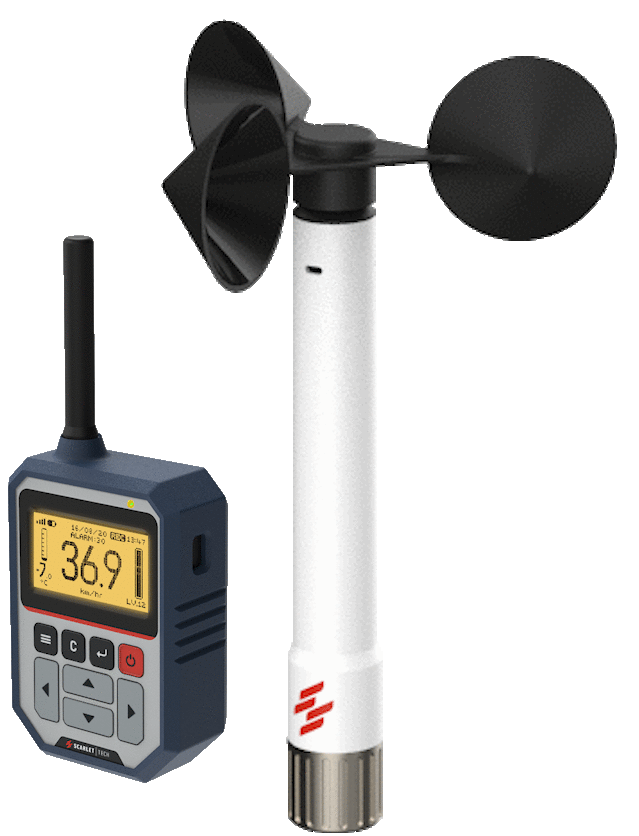 LIVE WIND
LOAD WARNING
Never worry about high wind. Receive live data and high-volume wind speed alarms based on safety standards.
WIRELESS WIND
LOGGER
• Live/Average/Maximum Wind Speed
• Beaufort Bar Graph
• Wind Chill
• Ambient Temperature
• Atmospheric Pressure
Get a Quote >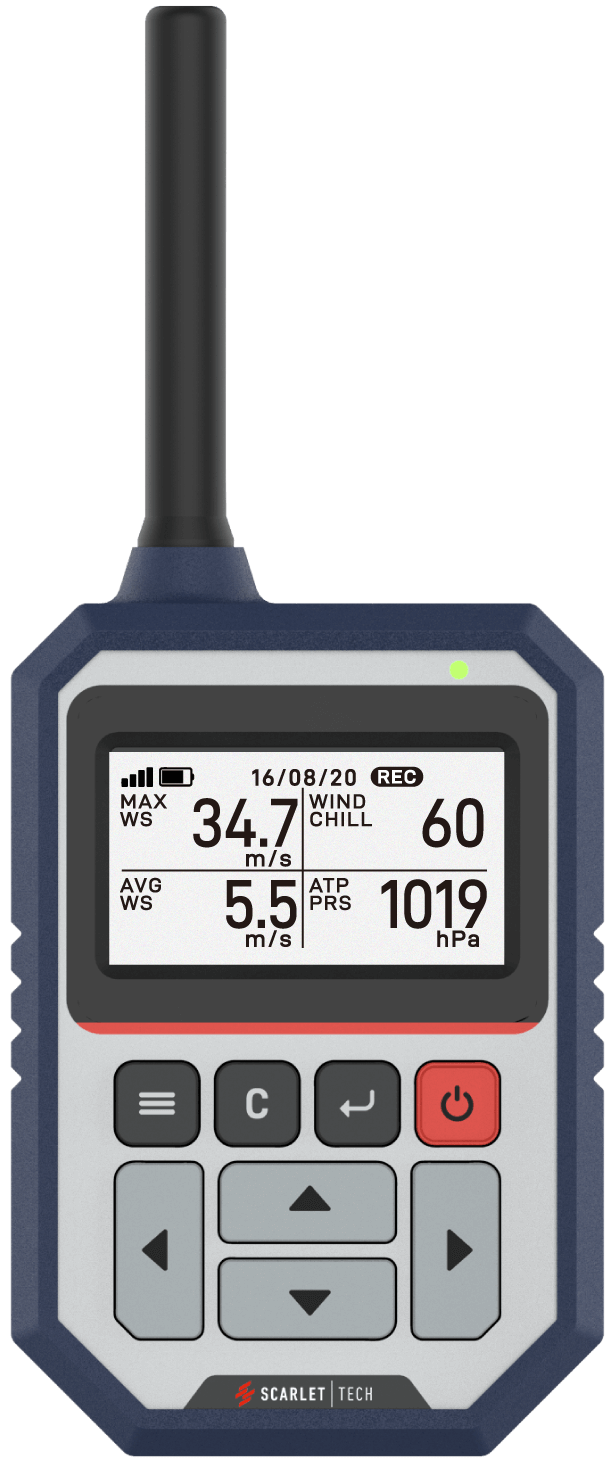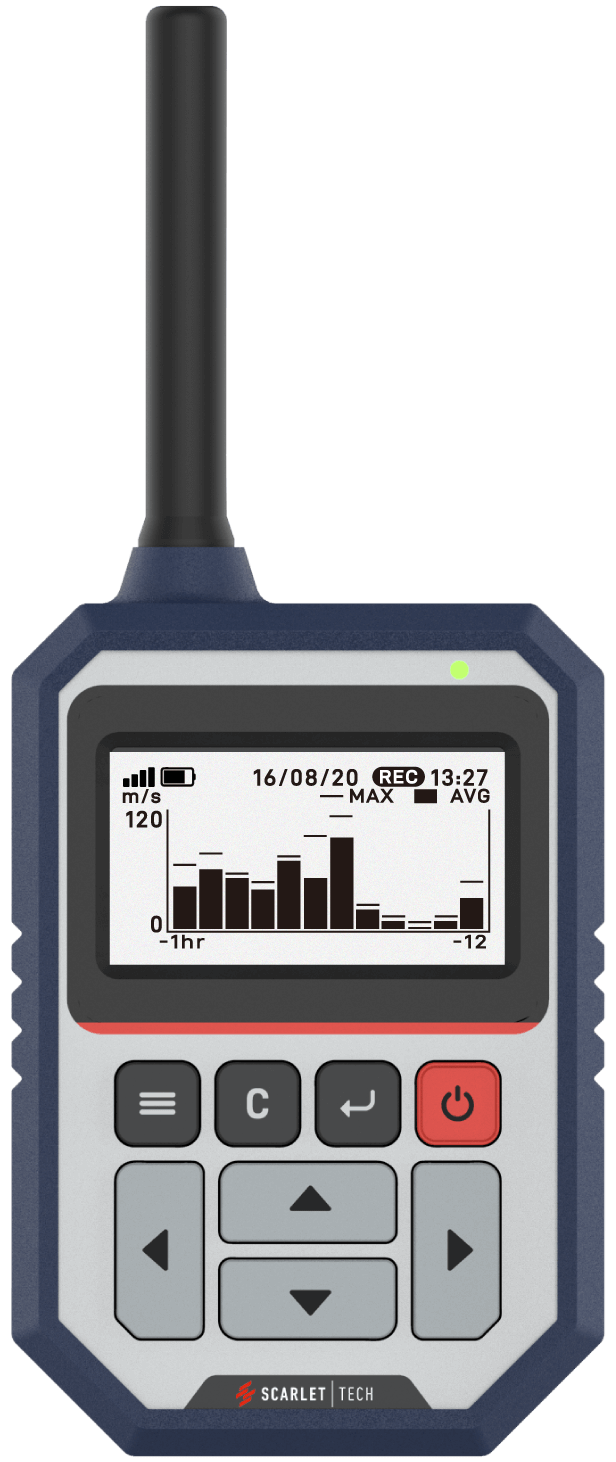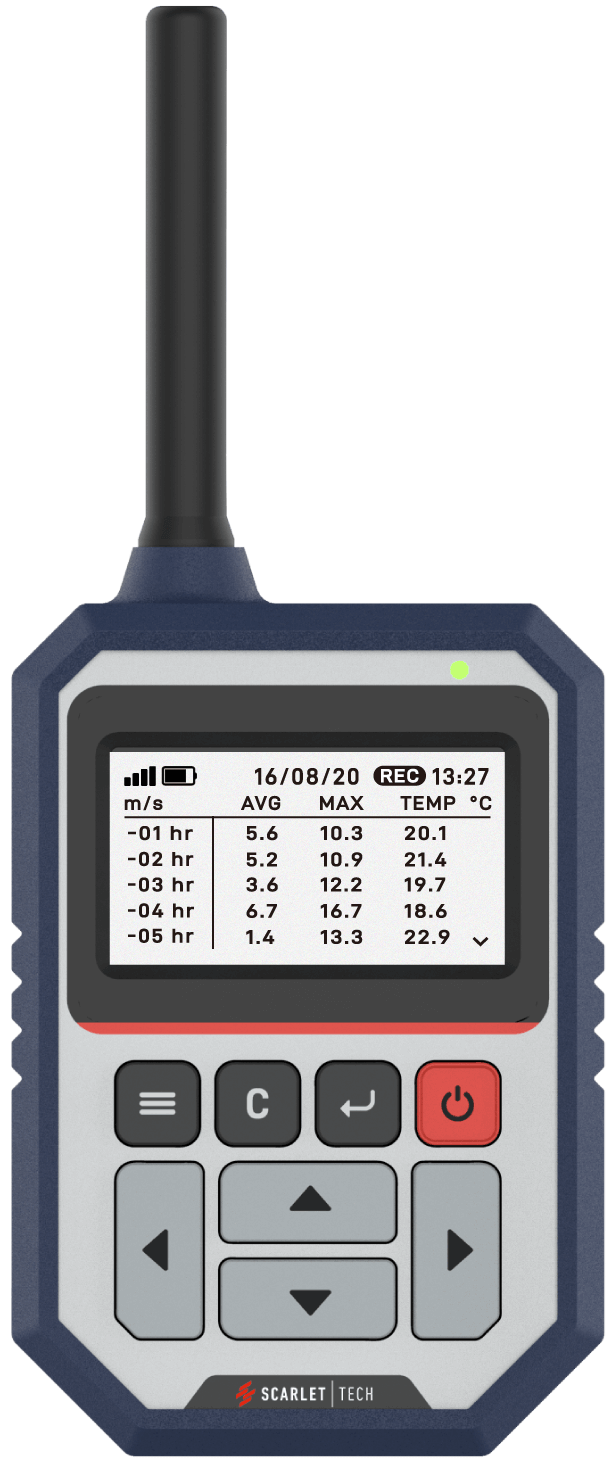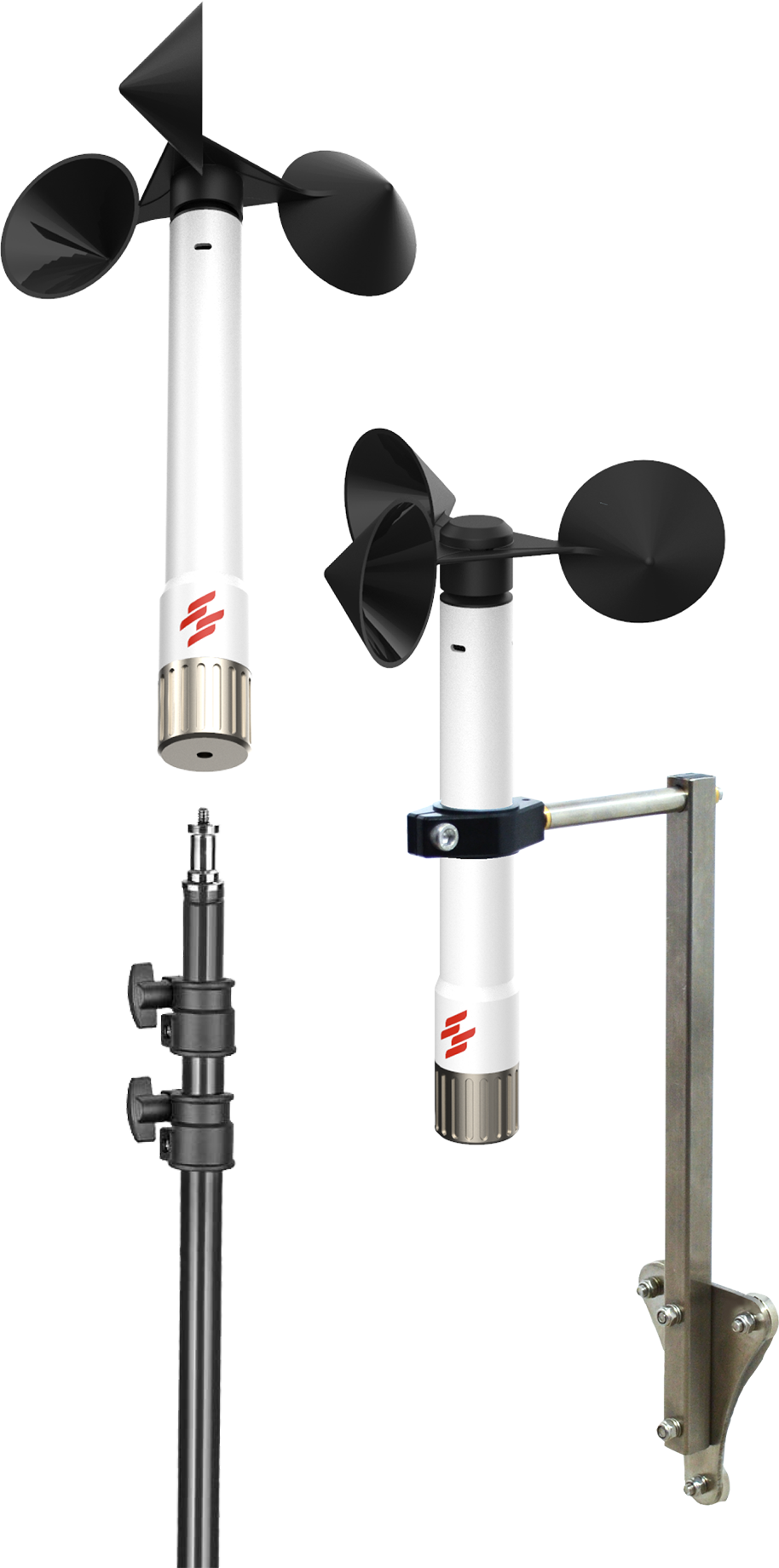 INDUSTRIAL-GRADED
WIND SPEED SENSOR
IP67 all-weather protection. Built tough and flexible for industrial installation. Long-life battery up to 3 years of continuous operation in harsh environments. Get rid of maintenance hassle.




WIND SPEED
DATA RECORDING
64MB built-in memory. Recording wind speed, temperature, air pressure data up to 1 year (10-sec logging interval). Easily exporting detailed historical wind data in Excel format.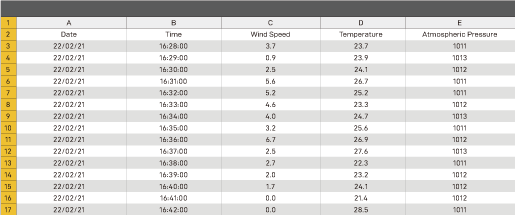 Get a Quote >
Applications & Industries
Scarlet wireless anemometers have been applied to varieties of industries for wind speed & direction monitoring. The risks associated with wind are often underestimated by the public. The Scarlet wind monitoring systems ensure workforce safety and regulatory compliance on cranes as well as other industries.
Agriculture
Fast and easily improve your everyday planning and decision making for your farm. You can employ it to measure wind speeds, determine growing locations and areas to erect wind generators. Also use anemometers to collect long term environmental data about an area. Apply our high level technologies to operate efficiently, save on input costs, and improve crop performance and productivity.
Construction
All construction project and especially high angle construction projects operates under wind risk. Monitoring wind speed and wind direction is a vital issue when it comes to safe operation of construction sites. It is a primary consideration to ensure worksite safety. Severe weather conditions can affect site safety straightforward with wind gusts and high wind speeds posing a deathful threat, especially for construction projects with open envelopes allowing wind to pass through construction projects.
Marine
Marine ports and terminals liability insurance covers a range of possibilities, including business interruption and losses or damage due to weather conditions. Wind speed direction can significantly affect the position of a ship or oil platform. Regulations require that the vessels record weather data, including wind speed on a regular basis, with data displayed continuously on the bridge. Scarlet offers a complete solutions when it comes to monitoring and recording wind speeds at ports ,harbors and all offshore applications like live wind gust.
Outdoor Events
When people come to play or perform in the great outdoors, the weather conditions often matters to our safety. Accurate wind data is required for both the build and setup process as well as during outdoor events. Monitoring of actual rigging loads, weight distribution and wind speed allows operators to make informed decisions regarding the stability of a structure.
Office Tower
Building skyscrapers is a common engineering project nowadays. Changeable climates also matters to workers at the construction site. Strong wind up there while under construction is a big threat for workers and might be fatal. Accurate wind speed and direction are essential in this kind of situation to prevent fall-related tragedy.
Offshore
The rapid increase of offshore wind farm projects has given rise to the need for accurate, easy to use equipment to measure the wind on locations several kilometers from the coast. If installed offshore, the traditional mast equipped with anemometers requires a
large and heavy platform to sustain the weight and the size of the structure. Scarlet wireless anemometer is the best solution. It not only measures accurately but also reduce the burden by minimizing the size of the structure.
Agriculture

Construction

Marine

Outdoor Events

Office Tower

Offshore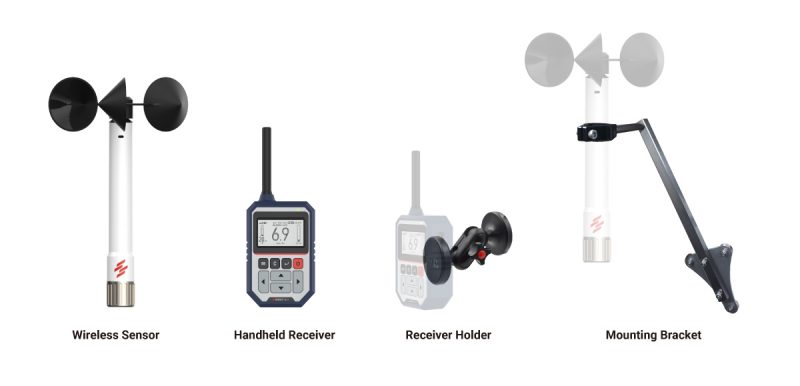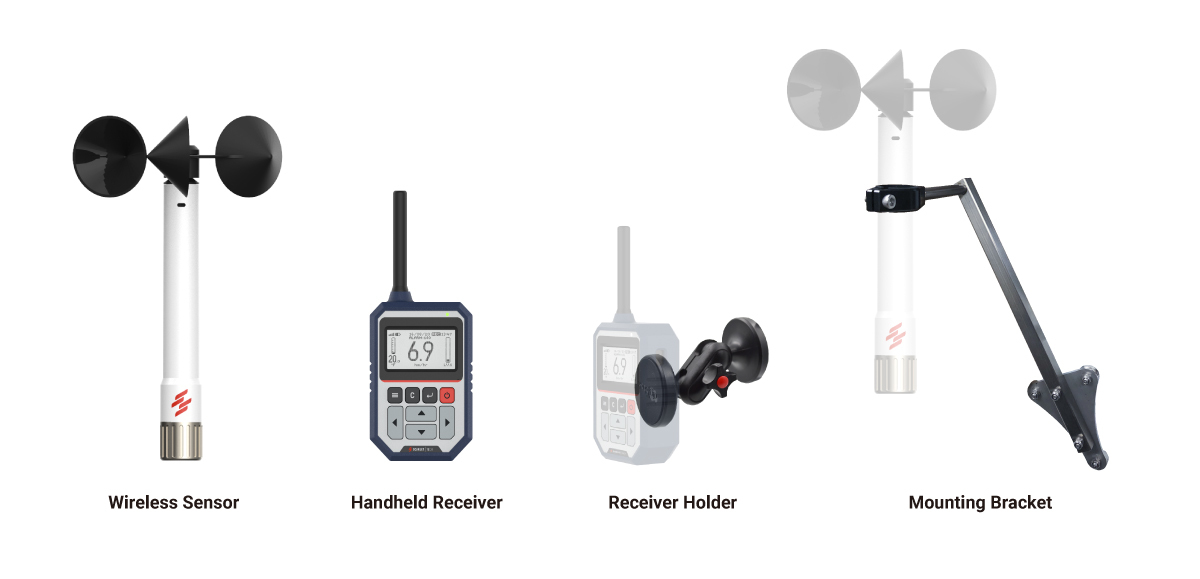 500m Wireless Transmission Range

Instant Visual & Audible Wind Alarm

Data Recording Up to 1 Year

 

Wind Data with Historical Graphs

Accurate Wind Speed, Temperature, Air Pressure Measurements

3-years Sensor Battery Life

Low Power Consumption

Replaceable Wind Cups

 
Item
Description
Wind Speed Measurement Range
0.3...50 m/s
Wind Speed Accuracy
+/- 2 % FS

Wind Speed Resolution
0.1 m/s
0.1 knots
0.1 MPH
0.1 km/hr

Units of Measurement
m/s, knots, MPH,l km/hr
Temperature Measurement Range
-30....+60 °C
Dimensions - Sensor
262.5 x 183.5 x32mm
Dimensions - Display unit
189.6 x 75.6 x 36.3mm
Receiver logging Interval
2s, 5s, 10s, 1min, 5 mins, 10 mins, 60 mins
Data Rate
every 2 seconds

Transmission frequency
868MHz(default), 915MHz
Battery - sensor
3.6V 18505 Lithium battery x1

Battery - display unit
1.5V AA battery x3, Micro USB port
Mounting
Magnetic sensor mounting bracket
or 1/4" threaded hole

WR-3 PLUS Data Export Software
Download
Find the Perfect Fit
WR-3 Plus

WL-21

WL-410/SD

WindPro

Wireless Range
Max 500m
Max 500m
WL410: Max 500m
WL410XB: Max 1,300m
Max 1,300m
Web Portal: Unlimited
Alarm
Buzzer, Backlight
Buzzer, Backlight
Buzzer + External warning device
Buzzer + External warning device
Datalogging
64MB Built-in Memory
64MB Built-in Memory
Optional:
4-20mA outputs
Phone App
Cloud-based storage
Wind DirectSensor
No
Yes
Optional
Optional
Get a Quote >
WL-21 >
WL410/SD >
WindPro >
What Our Clients Say
The Scarlet wireless anemometer WR-3 is the best wind speed meter I ever used in my career life. It makes my job much easier and I can monitor wind speed in my office under bad weather conditions.
I have been using WR-3 PLUS for the last 6 months and couldn't be happier with their performances and high quality.
We are quite happy with Scarlet WR-3 wireless wind speed meter. It works perfect in our workshops. I highly recommend this wireless anemometer.