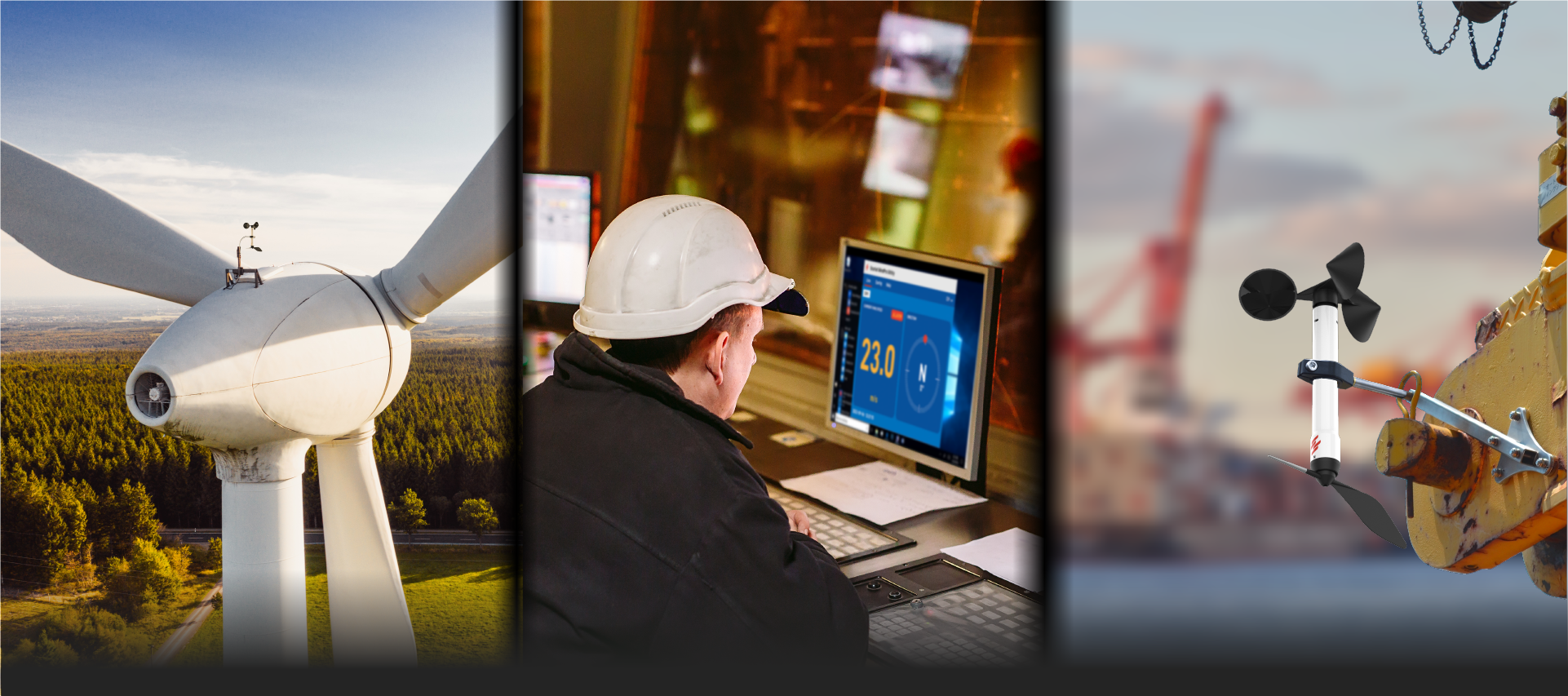 WindPro Online
The advanced wind monitoring system, designed to elevate safety and operational efficiency. Get real-time wind updates and instant alerts, for all personnel on-site or remotely. Perfect for construction, wind farms, renewable energy sites, academic research, and other applications.
What is WindPro

Wireless Wind Sensor
Measure wind-related data with max. 1 km range.
WindPro Console
Touch-control hub with industrial outputs for device integration.
Scarlet Web Portal
Monitor multi-WindPro devices and data remotely on smart devices.
Unlimited Data Access
to Web Portal
Monitor data from multiple WindPro devices, get instant wind alerts via email or browser, and export Excel logs.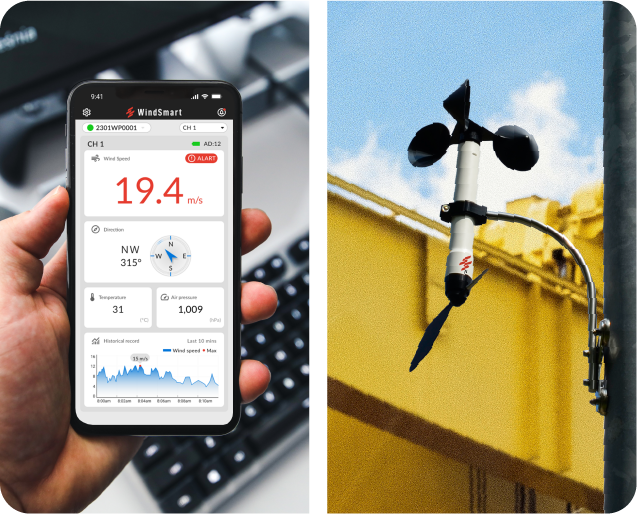 Streamlines
Real-Time Wind
Readings
WindPro Portal provides real-time and reliable data for your industrial needs, and it easily integrates with IIoT systems.

Explore WindPro Web Portal's demo site using this login account:
Account: demo1@scarlet-tech.com
Password: scar@123
Instant Notifications
from Anywhere
The wind alert system is built in the WindPro console for onsite alarming. It can be connected to external devices, like LCD signages or sirens. Additionally, remote personnel/HSE managers can stay informed by email and web notifications.

Console
Onsite visual & audible alarms

Browser
Pop-up Warnings

Email
User-defined notifications
Data
Visualization
WindPro Web Portal provides a comprehensive chart and table view for a quick glance at wind data. Download the historical data for in-depth analysis and future trend predictions.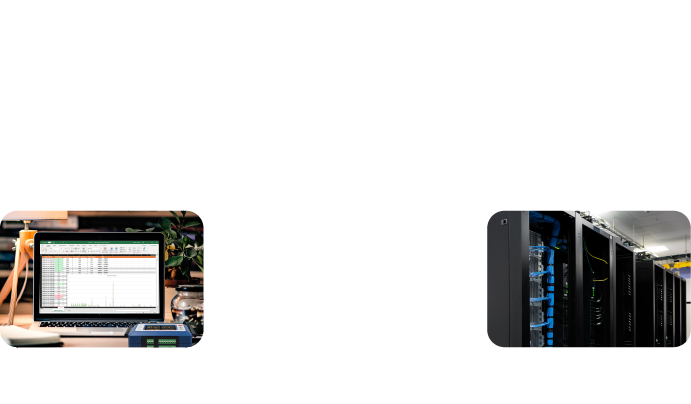 Local and Remote
Data Backup
- The data can be accessed locally from console and exported to Excel.
- Wind data recorded at a 2-second interval and stored in WindPro console (128MB).
- Synchronizing data on the remote data center.
Wind Data Access
from Different Sites
With the internet access, the real-time wind data received by WindPro console from different locations can be seamlessly uploaded to Scarlet's web portal. This feature enables authorized users at different spots to easily manage wind data through multiple devices.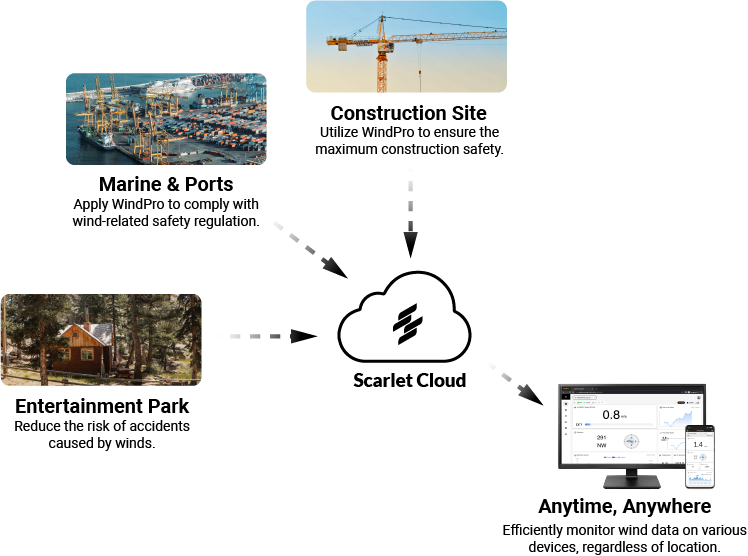 A Safety Sentinel for
Any Wind Condition
Take control of your wind monitoring needs and ensure project efficiency with advanced features of WindPro today.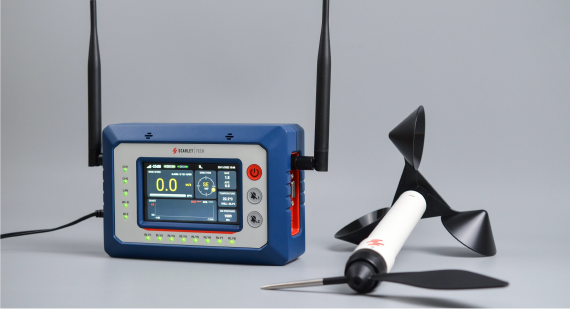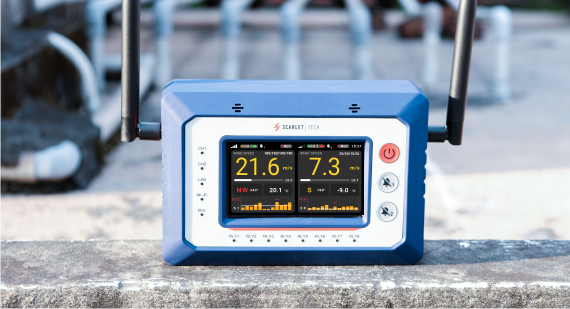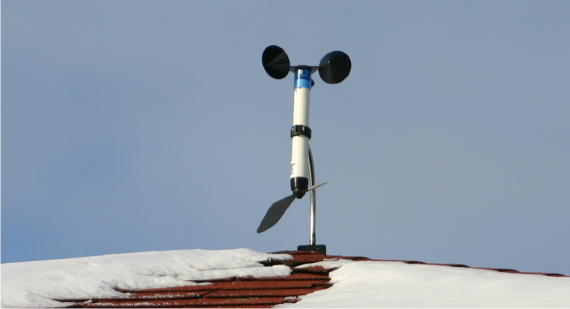 A
Perfect Fit


for Any
Purpose at
Wind Monitoring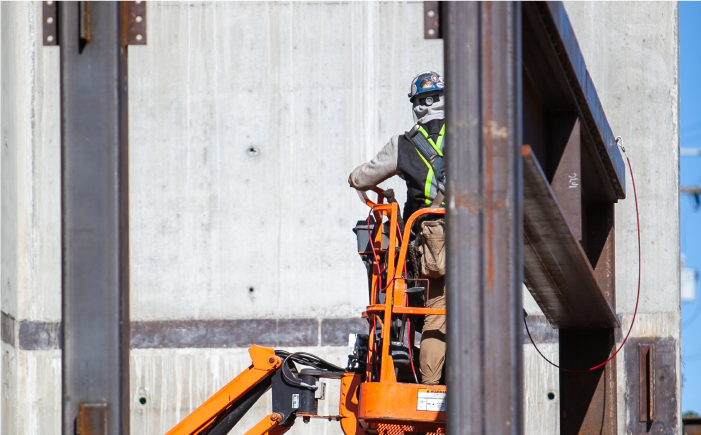 Ensuring Working Safety at Height
Construction, infrastructure, industrial or manufacturing projects that often involve working or operating at heights.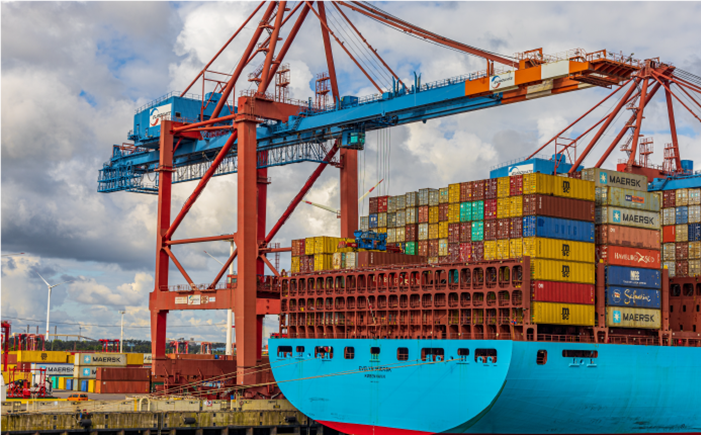 Managing Wind-Related Issues
Aviation, ports, cargo handling, entertainment events, festivals, and outdoor activities such as paragliding and ballooning that may face turbulence or high wind conditions.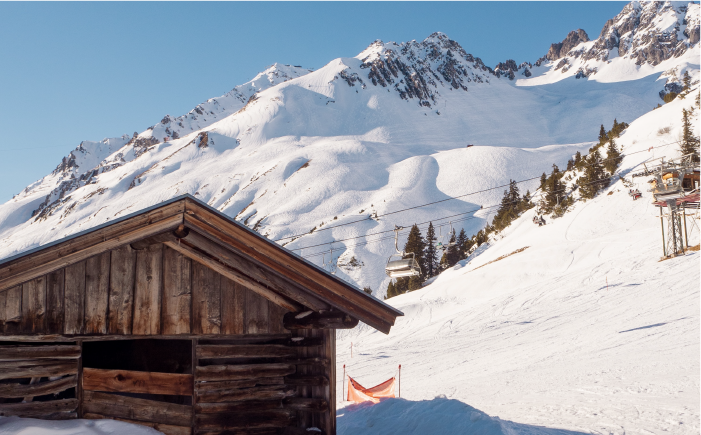 Conducting Environmental Research
Long-term ecology studies, environmental monitoring, and renewable energy sources such as wind farms that require reliable remote wind monitoring.
What Our Clients Say
WindPro is the most reliable anemometer I ever use. I can easily get wind data and manage my workload efficiently.
Scarlet always delivers the best quality product. Their anemometers are better than others in price and performance.
I have been using different anemometers for more than 20 years. Scarlet WindPro is the anemoeter that can do the job perfectly.
Easy installation. I purchased the previous version 3 years ago and it still works under rigious environments.

Max 1,000M wireless range
4-level configurable alarm with built-in buzzer
Data logging
Various outputs for IIoT integration (Relay, 4-20mA, RS232, USB, RJ45, Wi-Fi, 2.4G Wirelss broadcasting)
Wind speed, wind direction, air temperature, air pressure measurement
Touchscreen with 2-sensor channels
WindPro console and antenna – WL-21 wireless sensor (Wind speed and wind direction)
Magnetic sensor mounting bracket
Magnet holder kit for WindPro console
Power adapter (input:100-240V, 50/60Hz, 1.5A; output:25V, 2.5A)
User manual & Certificate of Confirmity
Mobile App – RS232 Windows Utility
Cloud-based IoT Web Portal (Optional)
24/7 Online Data Logging (Optional)
Item
Description
Display
Touchscreen LCD 4.3" (480 x 272)
Data
Wind speed (Live/avg/max)
Wind direction
Ambient Temperature
Wind Chill
Beaufort Scale
Air Pressure
Wireless Range
up to 1km (Sensor to Console in line of sight)
Operating Frequency
868 / 915 / 933 MHz
Antenna input (Console)
50 ohm, SMA connector
Recording Data
Wind speed, wind direction, air temperature, air pressure
Build-in Memory
128MB
Recording interval
Every 2 seconds
Measuring rate
Every 2 seconds
Buzzer Alarm
> 110 dB
Alarm Thresholds
Wind speed x 3, wind direction x1 (each channel)
Output connector
RJ45, RS232, USB type C (date export), 4-20mA (wind speed & wind direction for each channel), relay x 4 (for each channel), Vcc/Gnd x 2 (DC24V)
Wind Speed Measurement Range
0.3....50 m/s
Wind Speed Accuracy
±2%
Wind Speed Resolution
0.1 m/s
0.1 knots
0.1 MPH
0.1 km/hr
0.1 ft/s
Units of Measurement
m/s (default)
knots
MPH
km/hr
ft/s
Temperature Measurement Range
-30....+60 °C
Atmosheric Measurement Range
500....1100 hPa
Wi-Fi Frequency range
2.412 GHz ~ 2.484 GHz
Wi-Fi Module
CJM410, 802.11 b/g/n
WiFi Output power
Min 16 dBm, Max 20dBm
Power Supply
Sensor: 3.6V Lithium Battery x 1 , Console: AC 100-240V
Material casing
PA6 + 35%GF
Dimensions
Sensor: 262.5 x 183.5 x 32mm
Console: 185 x 126 x 65mm
Weight
5.1 kg (full package), 700g (WindPro Console)

ScarletWind (WindPro version)
Download

WindPro RS232 Utility
Download

WindSmart App (iOS version)
Download

WindSmart App (Android version)
Download