Last Updated on
Are you curious about what are the top 5 biggest crane in the world? There are many different type of cranes available in the market, from tower crane, gantry crane, to mobile crane, based on its mobility crane can be categorized into fixed and mobile crane.
Over the years, there have been development of special cranes engineered for specific tasks that normal crane just is not strong or big enough to handle. Let's take a look at our most recent findings about 5 most powerful crane in the world.
1.  Taisun Crane
Crane Type: Gantry crane
Lifting Capacity: 20,000 tons
Taisun is the world's biggest gantry crane with 133 meters height and 120 meters span which is even bigger than soccer field. It has 20,000 tons (over 44 million pound) incredible lifting capacity that holds the "Guinness World Record" status for "heaviest weight lifted by crane".The crane is located in Yantai, Shandong Province, China and mainly used for offshore vessels such as drilling semi submersibles or FPSOs (Floating Production Storage and Offloading). Taisun helps to shorten overall project schedule and manpower work time up to two million man-hours while improving safety and quality at the same time.
During the Offshore Technology Conference (OTC) 2008, Taisun also received the prestigious  Woelfel Best Mechanical Engineering Achievement Award which recognized technologies that have significant impact on the offshore industry and meet the health, safety, and environmental standard.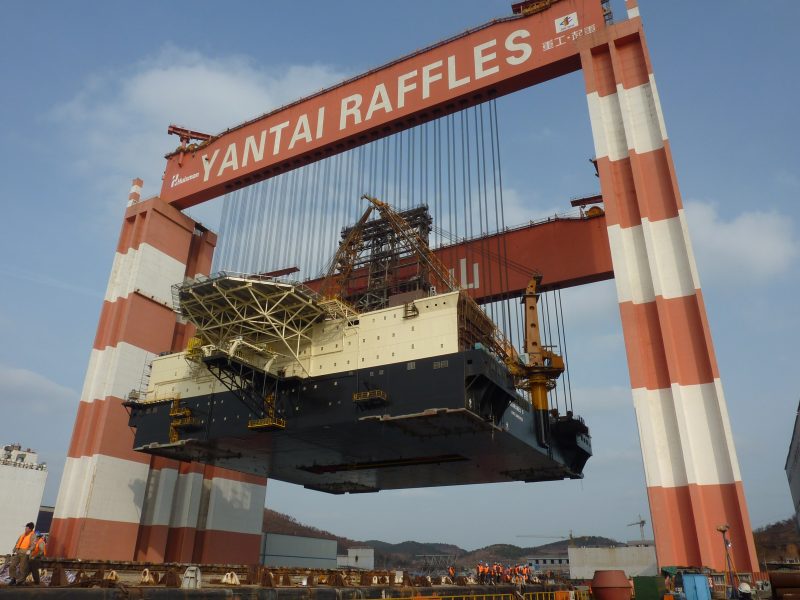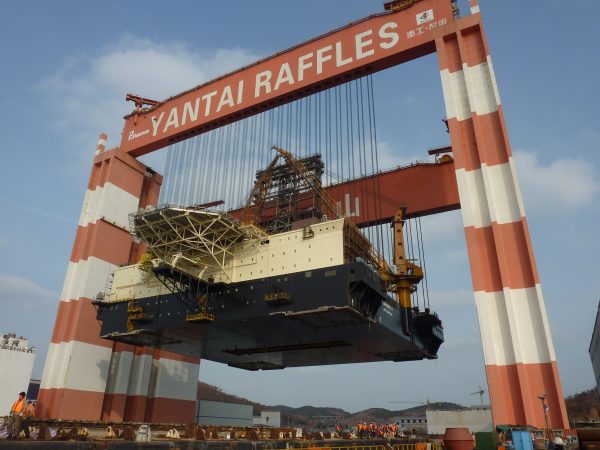 Image Credit: Haakman, Wikimedia Commons
2. Mammoet's PTC 200 DS
Crane Type: Ring Crane
Lifting Capacity: 5,000 tons
Mammoet ring crane often catches attention with its bold red color and unique ring shape. Ring crane is basically a luffing jib crane built on a ring-shaped track. It is mainly used in large construction project. The Mammoet offers more efficient approaches to lifting and installing components especially when dealing with oversized and heavy objects in confined areas. With its long reach, small footprint, flexible configuration and quick mobilization Mammoet ring crane provides flexible solution to many lifting situation. It is often advertised as the "smallest" super heavy-lift crane. Moreover, it has many great safety features for many hazardous situation such as in hurricane survival mode where the boom can descend down to the ground.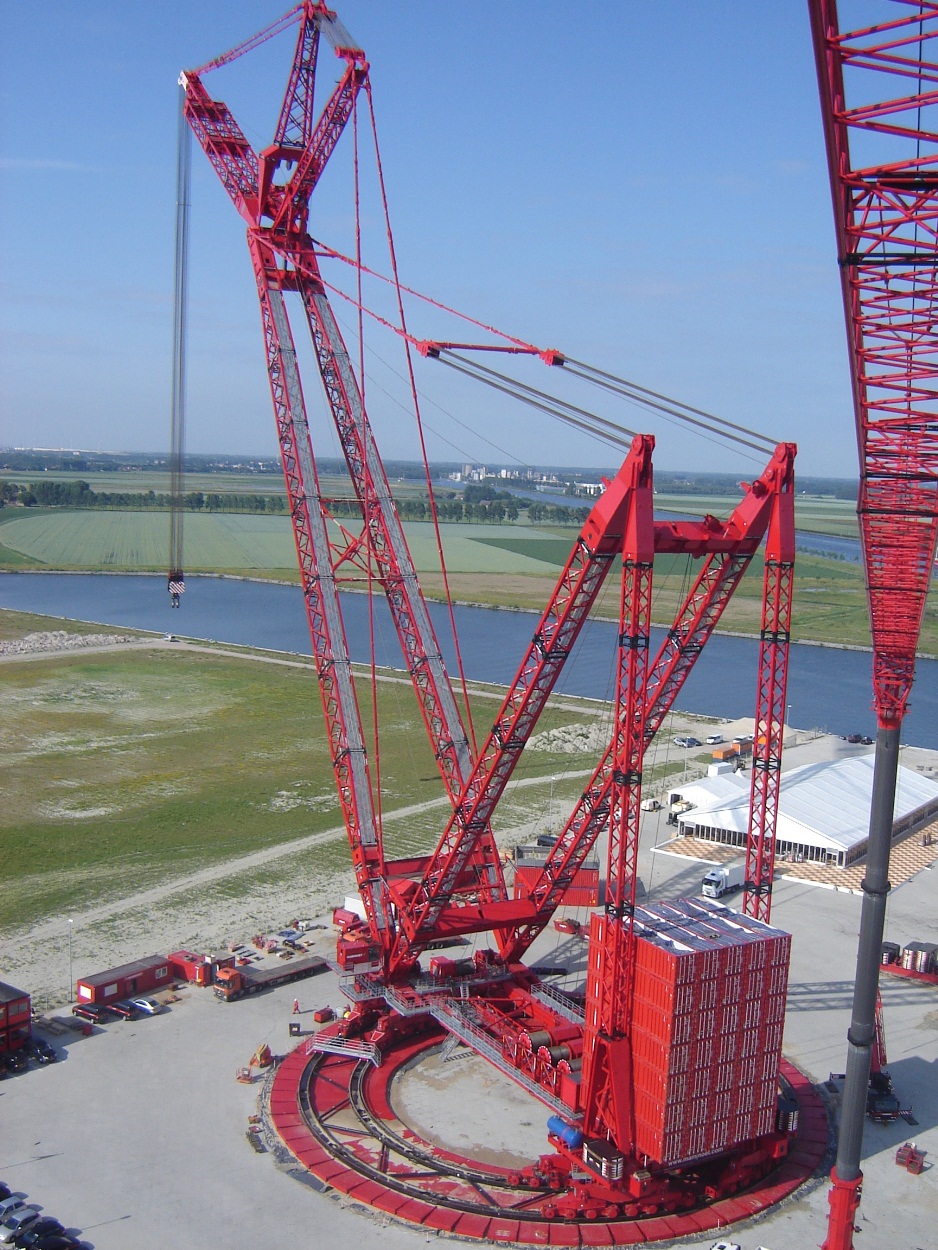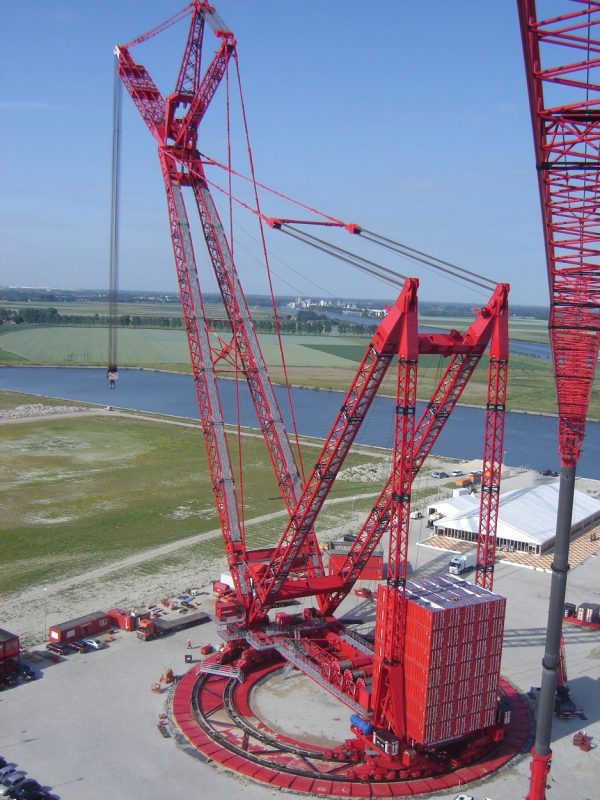 Image Credit: mammoet.com
3. "Big Carl" SGC-250
Crane Type: Ring Crane
Lifting Capacity: 5,000 tons
SGC-250 or often referred as "Big Carl" is a relatively new fleet from Sarens, a Belgian multinational heavy-lift company. Big carl began its first project on the UK's first nuclear power plant, the Hinkley Point C, the project is worth a £20 million contract and is one of the world's largest construction project in the world.Big carl can lift up to 5,000 tonnes or equivalent to 50 blue whales (the largest animal alive, its average length is about 3 large bus).
Big Carl is not your typical ring crane, despite its ability to turn 360 degrees on its ring, it runs on a 6 km rail track at the site, allowing the crane to move between three lifting locations without the need for reassembly, it runs on 96 individual wheels when moving between positions. Big Carl uses the power of high-strength steel to deliver unprecedented lifting capacity with a lifting height up to 250m, a little taller than One Canada Square in London's Canary Wharf.To balance its lifting, there are a total of 52 of container boxes placed as a counterweights, each weighing 100 tons.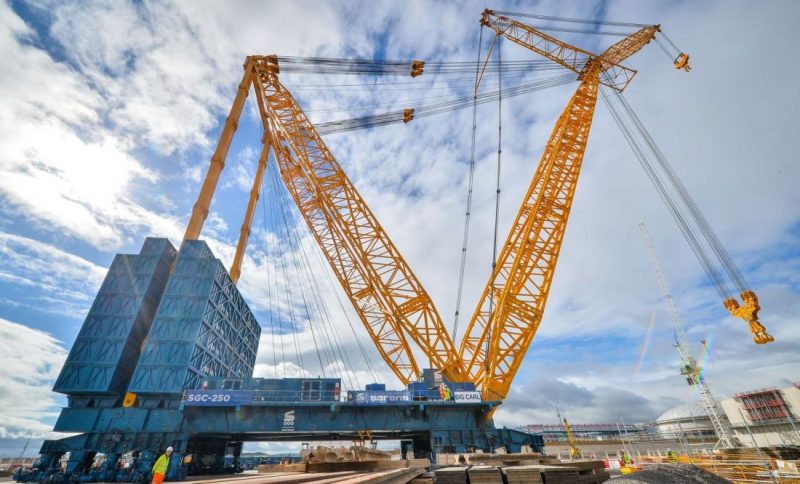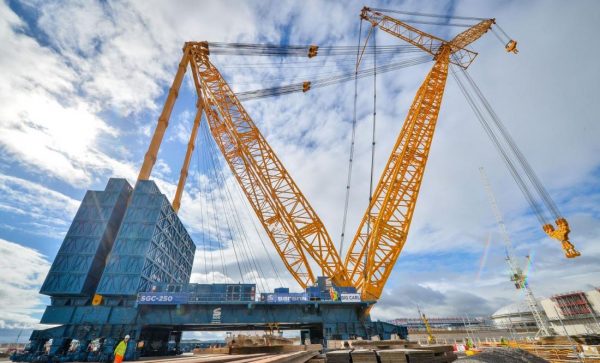 Image Credit: vertikal.net
4. Liebherr LTM 11200-9.1
Crane Type: Telescopic Crane
Lifting Capacity: 1,200 tons
Liebherr 11200-9.1 is the longest and strongest telescopic boom crane in the world. It is very huge, yet still highly mobile which is optimal for assemblies in the industry, in the wind power generation field, and infrastructure. This 18-wheeler truck can lift up to 1,200 tons and reach a maximum hoisting height of 188 meters. A great increase of the capacity is realized with the variable Y-telescopic boom suspension. The variable Y-boom suspension feature allows for versatile operational use while keeping high performance.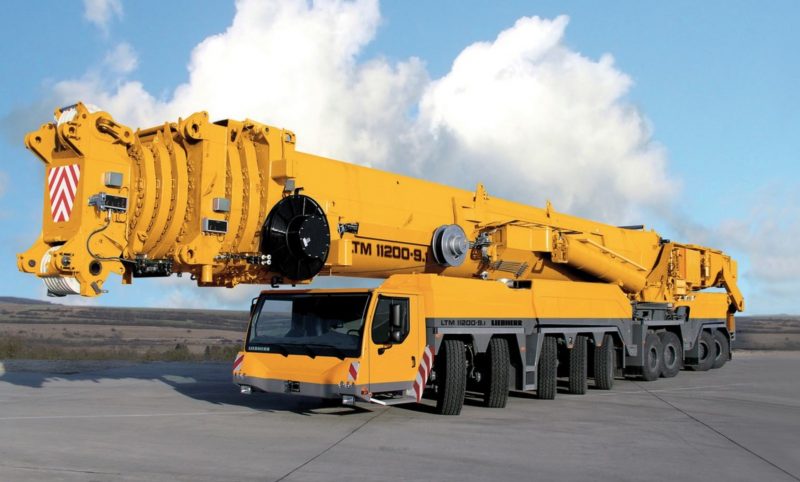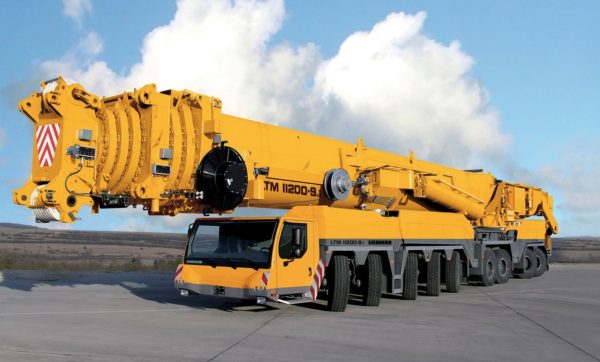 Image Credit: liebherr.com
5.SSCV Sleipnir
Crane Type: Floating Crane
Lifting Capacity: 10,000 tons/crane
Semi-submersible crane vessel (SSCV) Sleipnir was completed in 2019 and now is the world's largest crane vessel succeeded the earlier SSCV Thialf. Its name "Sleipnir" was derived from the most strong eight-legged horse ridden by God Odin's in Norse mythology. The vessel has two revolving cranes, each with a capacity of 10,000 tons, the main cranes can be operated alongside each other, which can jointly lift equivalent weight of 20,000 cars. The deck area is 220 meters long and 102 meters wide. When the cranes are fully extended, it can reach a height of 220 meters that is 20 meters higher than the iconic Marina Bay Sands.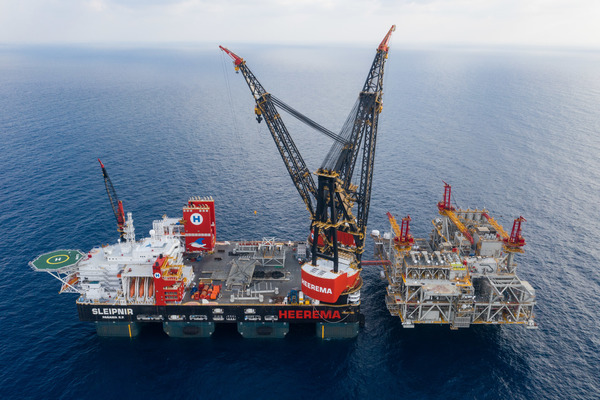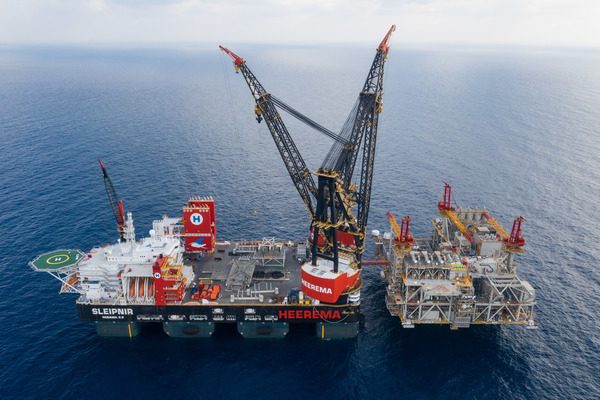 Image Credit: hmc.heerema.com
Among those five world's largest crane which one is your favorite? If you know any other crane worth featuring in this article or simply have any request on some crane-related topics you would like us to write, feel free to let us know by dropping DM over Scarlet's Instagram.
Why Wind Speed Monitoring is Important for Crane Safety?
Wind condition can present a serious potential danger on crane operation that can risk the life of worksite personnel and cause costly infrastructure damage. Winds can impose extra loads on a crane's boom and affect the crane's stability. When wind speed exceeds the maximum limits set by the crane manufacturer, this may cause the load to move uncontrollably and topple over the crane causing a serious accident. Therefore, it is important to know the wind speed at the tip of the crane's boom to ensure it is safely operating.
To measure and monitor the wind speed on crane in real-time, you can use a wireless cup anemometer – wind speed sensor. If you need to measure wind direction as well, you can use data logging anemometer-wind speed and direction sensor. Wireless anemometer is ideal for use on a crane boom as you won't have to worry about cables.
Also Read Other Articles
How Does Wind Speed Influence Crane Safety?