Last Updated on
Tower cranes are commonly used for high-rise buildings construction. Wind is one of the important factor affecting safety.Here are the features you should be looking to effectively monitor weather conditions on tower cranes:
 1 – All Weather Protection
Tower cranes are operated outdoor with direct exposure to weather. Determined by location and climate season, anything from heavy-rain to summer dry heat can happen on construction sites. Windblown dust, rain and moisture can damage electronic components when it comes in contact with them, so it is important to have your device protected.
Make sure that the device you choose has an IP-67 (Ingress Protection) rating which means dust proof and waterproof.The first number after IP defines the protection against dust and sand. It ranges from 0 (no protection) to 6 (100% protection).                The second number after IP defines the protection against liquids. It ranges from 0 (no protection) to 8 (100% protection).  
IP-67 is the highest and most common standard rating you can find for water and dust proof connectivity products. It is 100% protected against dust and sand, and has been tested to work for at least 30 minutes while under 15cm-1m of water.  
A cost-effective wind monitoring system like WR-3 Plus has all-weather protection with an IP-67 rating.
2.-Portability and Convenience
Heights and distance remain as the top challenge in monitoring wind and weather at outdoor operations such construction sites. It is often the case that traditional wind monitoring tools are cabled types, thus presenting limitation in distance length and reach when measuring wind data on object as tall as tower cranes.
Having no-cables or so-called "wireless" allows measuring flexibility at any distance, without having to worry about the cable length or any obstacles in between.WR-3 Plus offers a long-range transmission distance up tp 500 m with stable connectivity, making it a great option for stable wind monitoring on tower cranes. In addition, it also has a long battery life that supports continuous operation up to 3 years long, making it very convenient and practical, no need of keep changing battery every now and then, only once in 3 years time and done it is ready for use again.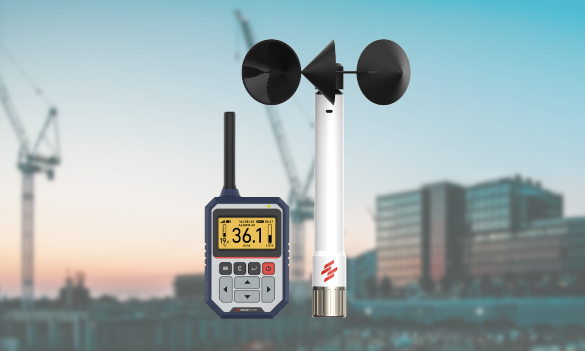 3 – Accuracy and Reliability
Jobs at construction sites are risky by nature, therefore it becomes necessary to pay extra caution to ensure safety at work. High winds and weather are crucial factors affecting safety when operating tower cranes. Accurate and reliable data fuels decision-making at work, which directly affects safety. Therefore, crane operator needs to know current wind conditions accurately.
Depending on the model and manufacturer of cranes, each crane has its own wind limits and load capacity, such as maximum wind load capacity before the crane must stop or slow down operations.Wind conditions not only affect crane lifting operations but also other aspects of lifting such as blowing dust that obscures the visibility between a crane operator and their lift or signal person on the ground.
To solve this problem, WR-3 Plus-wireless anemometer and Apollo M1-wireless crane camera are the perfect combination of crane safety equipment that you need. Let WR3-Plus monitor wind conditions, while Apollo M1 ensures crane operator visibility when lifting through its live-streaming feeds.A crane operator should never be "lifting in blind".
4 – Cost Effective and Functionality
When choosing an effective wind monitoring tool, being cost-effective and functional at the same is hardly possible. But what if, it is not? WR-3 Plus offers both at the same time without sacrificing quality.
Working at height with a complex working environment can be stressful, effective wind monitoring tool should not add any additional stress instead it should make your day-to-day job easier.
WR-3 Plus has user-friendly interface that is self-explanatory and convenient even for professionals who are not wind experts. It has automatic wind speed alarm function. When wind speed exceeds certain limit, it will automatically notify you. Many crane operators and safety manager find this helpful since they do not have to keep monitoring all the time and can focus more on doing their work.
What is more, WR-3 Plus advanced wireless technology connects one wind sensor with multiple displays and get everyone informed on current wind conditions without wire hazards or signal interference.
Conclusion
As the construction of buildings continue to advance, having a wind monitoring system that uses the best quality parts for durability and measure reliable data is crucial. Work less-stressful and make better decisions with cost effective and reliable wind monitoring tool like WR3 Plus that have been tested and proven to give the best results without connectivity problems.